Who is Ruffsta?
Ruffsta was a fan of Tom's videos since late 2014. He then decided to get in contact with Tom with Youtube comments and tweets in 2016.
Ruffsta then decided to add in english captions into Tom's videos. (well only some, for now.)
First Appearance (if it counts.): Destroy All Humans Madness - Mikes World.
Youtube: Ruffsta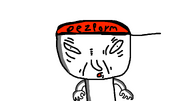 XBL: N/A
PSN: Ruffsta704
Steam: Ruffsta
Nintendo ID: N/A
Twitter: Ruffsta2
Reddit: (Had one, but not anymore.)
Real Name: N/A
Trivia
He tells stories of his life in most of his Youtube videos.
He is a big fan of Kingdom Hearts.
He can make some decent art.