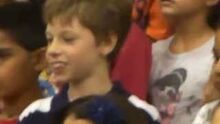 Michael is toms cousin who plays games with him in the 2 cousins play series
so far they have played Watch dogs, peggle 2, Destroy all humans POTF. Gta 5, and more
he visits every weekend and has Xbox live but not steam, psn, or YouTube. Well his dad has a YouTube but does not upload. He comments with his uncles account. he is in the channel
Mikes World
however does not own it
Likes
gta v
buying shark cards
dogs
big macs
blowing stuff up
spinners
watching videos
rocket league
screaming frogs
root beer
Dislikes
Dying in gta
when he doesn't get to play gta
roblox
popcorn
dabbing
people who steal his food
Quotes
michaaaael
ooh look at the sign.
ah haha
Can I Try?
oooooh look at
ooh he's mad! He's mad
MONEEY!
Adeeeeuuu
his name is felony?
I swear I saw white eyes.
ohh THERES A COP RIGHT THERE!
im in a cube car
Well why should I?
Ferdalerdalerdaler
o
k
ok
idk
lol
woah
Trivia
His face reveal on the Tomzgames channel is in 2 cousins play ep 11 - The vlog.
His favorite game Is GTA V. In fact it is The only game he plays along with rocket league occassionally.
He's short tempered sometimes.
He destroyed a Pumpkin, Xbox One, a fidget spinner, and flipped a table, and other stuff.